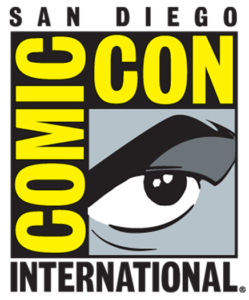 It's SDCC and it needs no further introduction. Here's where you can find me!
Thursday, July 19
"IT'S DANGEROUS TO GO ALONE!"
12:00-1:00pm – Horton Grand Theater
Even if you are The Chosen One, you still need your squad, whether they are friends, family, or just allies with important survival skills. With Justina Ireland (Dread Nation), C. B. Lee (Sidekick Squad series), Brooklyn Allen and Mariko Tamaki (Lumberjanes: The Moon Is Up), Leah Thomas (When Light Left Us and Because You'll Never Meet Me), Mary E. Pearson (Dance of Thieves /Remnant Chronicles), and Natalie C. Parker (Seafire).
It's Dangerous to Go Alone! signing
1:30-2:30pm – AA09
Spotlight on E. K. Johnston
3:00-4:00pm – Room 23ABC
I'm moderating this panel with E. K. Johnston (Star Wars: Ahsoka, That Inevitable Victorian Thing) as she talks about her career from small-town Ontario to a galaxy far, far away.
Will You Go to the Dance with Me? How Homecoming Dances and Epic Parties Have Shaped Storytelling
3:30-4:30pm – Room 24ABC
From Pretty in Pink to Pride & Prejudice's ball at Netherfield Hall, parties have always served as excellent plot devices. We'll talk about their favorite fictional social blowouts and discuss changing social mores, traditions, and celebrations through the ages. And who doesn't love a good party? I'll be a few minutes late, but I'm co-moderating this panel with Amy S. Foster (The Rift Uprising trilogy), with panelists Alexandra Monir (Timeless, The Final Six), Rachel Heine (editor-in-chief, Nerdist), Camilla Zhang (comics outreach, Kickstarter), and Rowan Rowden (founder, Dual Wield Studios).
Friday, July 20
Stargate!!!!!!
10:15-11:15am – Nerdist House, 530 Sixth Ave.
Here I am, hosting my dream panel over at the the Nerdist, all about Stargate – and a few other things, too! I'll be chatting with Chris Judge (also about God of War), Tony Amendola (also about Once Upon A Time), Kieran Dickson of Stargate Command, and Darren Sumner of GateWorld. I really love Stargate, y'all. I'm very stoked.
Signing at Quirk Books
3:00-4:00pm – Booth #1636
Come by Quirk where I'll be Guest Bookseller for an hour! We can chat and I can sign your books and it'll be fun!
Building Your Own Themyscira: Connecting with Other Geek Bosses
5:00-6:00pm – Grand 1 & 2, Marriott Marquis San Diego Marina
Lisa Granshaw (GeekFold) is moderating this discussion with me, Jordan Ellis (Jordandene and The Sartorial Geek), Robyn Warren (GeekGirlStrong), Jaimie Cordero (Espionage Cosmetics), Jazzlyn Stone (Bombsheller), and Rose del Vecchio (FanMailBox) about finding your niche, building professional relationships, and fostering community over competition.
Saturday, July 21
I Will Always Love You: A Panel Dedicated to Our OTP's

12:00-1:00pm – Grand 9, Marriott Marquis San Diego Marina
Let's chat meet-cutes, destined-to-bes, and all the different archetypal romantic pairings of great fiction. I'm co-moderating with Amy S. Foster (The Rift Uprising trilogy), and panelists Melissa de la Cruz (Love and War: An Alex and Eliza Story), Robbie Thompson (writer, Silk, Supernatural), Adri Cho (founder, Dual Wield Studios), Mey Rude (writer, Autostraddle), and Susana Polo (editor, Polygon) for a look at how some favorite pairings have evolved through LGBTQ+ culture and third-wave feminism-and how they haven't changed, because love is love is love is love.
xoxo
S