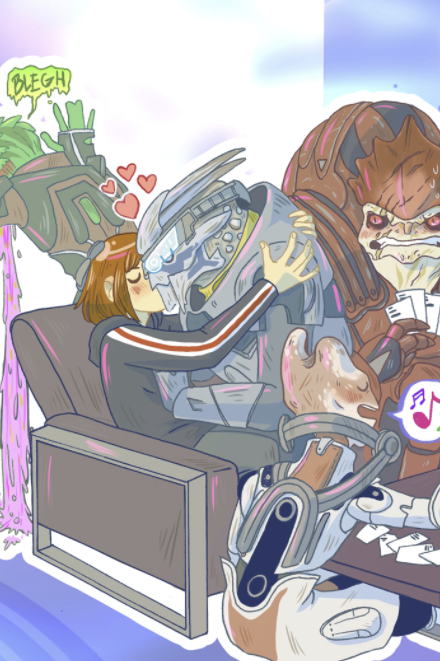 *Missing cards to be sold later as DLC.
Cards Against Humanity: Mass Effect Pack
The Mass Effect Pack was a collaboration between Cards Against Humanity and BioWare — 14 brand new cards* about valuable intellectual property: Mass Effect™. We thought if we wrote a pack with BioWare, they would let us play the new Mass Effect game early. That did not happen, but here we are anyway. Our brand synergy is "out of this world." This pack is now sold out. It's gone forever, even if you email us about it. You let the Reapers win.
I got to help co-write this pack with the CAH team and with BioWare editors Ben Gelinas and Karin Weekes, and it was delightful.
Reviews:
"We agreed to do this because Mass Effect is the only good AAA video game," said Trin Garritano, the events director of Cards Against Humanity. "We usually don't co-write expansion packs about video games, but we thought that if we made this pack of cards, they'd let us play Andromeda early. Unfortunately, that did not happen." — Geek and Sundry
"Other than that, Garritano said the working relationship between the two companies went smoothly. The idea sprang from a meeting between CAH and BioWare at San Diego Comic-Con a couple of years ago; just for fun, they started writing cards "that night," according to Garritano. Cards Against Humanity's writing team began the process, then teamed up with three BioWare writers — Karin Weekes, Ben Gelinas and Sam Maggs, whom Garritano described as "wonderful, perfect humans" — to fine-tune the cards." — Polygon